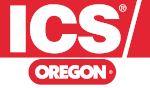 ICS PowerGrit chains for utility pipe cutting and other specialist applications.
The only diamond chain specifically designed to cut ductile iron pipe plus cast iron, PVC, clay, HDPE, and Insituform lining. Utilised by public, private water and wastewater companies worldwide features a brazed layer diamond coating on the strong FORCE4 chassis. PowerGrit from ICS changes the way you cut pipe and gets you in and out of the job faster and as chain grinds away the material using diamond technology offers safe method of cutting.
In addition to the standard PowerGrit chain there is now the new PowerGrit XL chain which uses a larger diamond with a more agressive grinding action which makes it better suited to plastic pipe cutting applications such as HDPE and other hard plastics. It also improves the cutting performance in ductile and cast iron as well.
Click on logo below for more information


Enquiry: ICS PowerGrit Chains
Need to know more about our ICS PowerGrit Chains?