EC Hopkins was founded in 1920 by Ernest Clarence Hopkins and has always been involved in supplying tools. We represent a large number of high-quality brands, some of which we are exclusive UK distributors for. EC Hopkins specialise in supplying tools for underwater use, tools for construction and machines and consumables for metal finishing, grinding and cutting.
We provide our customers with solutions to their problems due to our unrivalled knowledge of the products we supply. This knowledge is backed up by substantial stocks available for immediate delivery around the World. Not only do we supply machines, we also supply accessories and ancillary equipment.
We offer tools and equipment from brands such as Husqvarna, Stanley Infrastructure, Hycon, ICS Diamond Chainsaws, Sptiznas, Fein, Norton, Klingspor, Flex and many more.
The final piece to the jigsaw puzzle is our fully equipped and staffed workshop which ensures we can keep your equipment in perfect working order. Our client portfolio includes the military, UK fire and rescue, the offshore and inshore industries and many specialist companies in the construction and utilities sectors.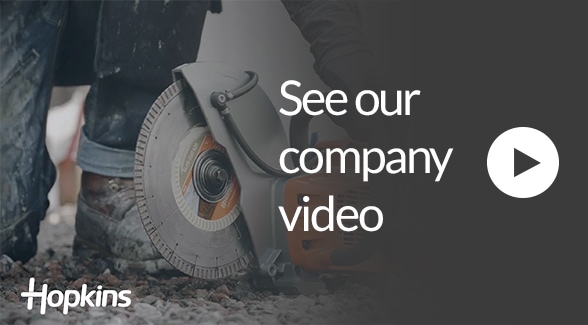 EC Hopkins: Synonymous with Quality
EC Hopkins Limited is committed to providing a quality service and quality products.
We aim to support customers during the product selection process and work with our key partners to offer a range of high quality products and finally offering a delivery service that meets or exceeds customer expectations. In addition we provide a managed repair and servicing process, ensuring tools and equipment are returned to the best condition where possible or to suit the customers needs with out compromising on safety or reliability.
Our quality system is certified and approved to ISO 9001, please click on the logos below for a copy of our certificate and the company quality statement. The company is committed to constantly monitoring and improving the system to ensure customers keep experiencing the best service available.
Brand

Products

Husqvarna Construction Equipment
Range of disc cutters, core drill and stands, plus floor saws, compactor plates and whole range of diamond discs and diamond core bits.
Hycon Hydraulic Tools & Equipment
Rangne of hydraulic tools and power packs including large disc cutters, ring saw, pumps, core drills and hydraulic breakers.
ICS Diamond Chainsaws
Market leader in diamond chainsaw technology, Petrol, Hydraulic Diamond Chainsaws for deep cutting in Concrete, Masonry and Stone.
Spitznas Tools & Equipment
Hydraulic and Pneumatic tools and accessories.
Stanley Infrastructure
Range of hydraulic tools and power packs including Hydraulic Breaker, Hydraulic Grinder, Hydraulic Impact Wrenches, Hydraulic Drills








Have a Question? Contact us Today!