Fein CG 15-125 BLP Brushless Angle Grinder
The Fein CG 15-125 BLP Brushless Angle Grinder with Dead Mans Switch
The Fein CG 15-125 BLP brushless angle grinder with Dead Mans Switch is dust-resistant, powerful, low-maintenance and long-life compact angle grinder with brushless FEIN PowerDrive motor for effective cutting, grinding and deburring work in tough working environments.
The fully enclosed brushless FEIN PowerDrive motor provides the perfect protection from aggressive ceramic and mineral dusts. Sooner or later, these dusts will destroy universal motors. The new innovative FEIN motor concept reliably prevents this from happening and thereby extends the tool's life by more than 60%.
The technology in the FEIN PowerDrive motor manages without carbon brushes. This translates into fewer wearing parts, longer service intervals and lower maintenance costs. The extremely efficient 1500 W motor consumes 200 W less power and yet is more effective than a 1700 W universal motor, which cuts energy costs.
Almost a third of all reportable accidents at work fall into the category of manually-operated power tools caused by angle grinders.* FEIN angle grinders of the CG 15 product line with extensive user protection minimise risks for the user. This keeps staff safe and allows you to plan processes. Costs and work loads can be calculated.
A weight of 2.2 kg with an output power of 1050 W produce an excellent power-to-weight ratio. Narrow grip dimensions, the compact design and a good balance ensure the most fatigue-free working possible in tough everyday professional use.
Machine includes: 1 wheel guard, 1 anti-vibration handle, 1 x protective cover for cutting work, 1 Tool-free quick-clamping nut, 1 key
Also available with standard thumb switch CG 15-125 BL
Machine supplied with 3 year warranty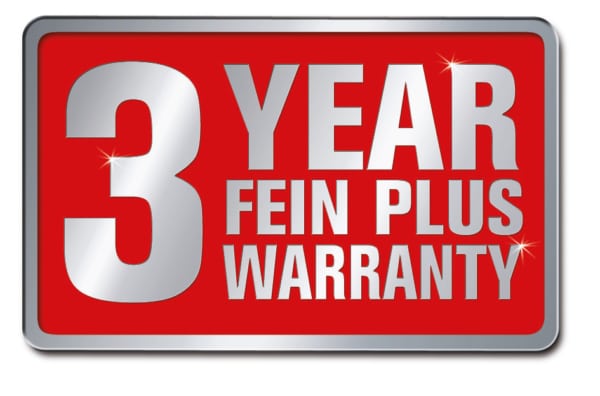 Enquiry: Fein CG 15-125 BLP Brushless Angle Grinder
Input
| | |
| --- | --- |
|  Input Power |  1500 W |
|  Output Power |  1050 W |
|  Motor |  Brushless |
|  Speed, no load. |  3,500 – 9,000 rpm |
|  Disc Capacity |  125 mm |
|  Flange |  M14 |
|  Weight |  2.2 kg |
Features
Outstanding service life thanks to brushless FEIN PowerDrive motor with fully enclosed motor housing and motor electronics fitted separately.
Optimum protection for the motor from aggressive ceramic and mineral dusts and therefore reduction in downtimes and maintenance costs.
Comprehensive user protection provided by soft start, restart protection, blockage monitoring, electronic overload protection, speed preselection, kick-back monitoring, anti-vibration handle and brake.
Optimum cooling and temperature monitoring.
Eye for carabiner to secure the angle grinder and prevent it falling off when working at height.
Weighs just 2.2 kg with an output power of 1050 W for an excellent power-to-weight ratio.
Quick-clamping nut included in scope of supply for changing grinding materials in a matter of seconds and without the need for any tools.
Fatigue-free working thanks to narrow grip dimensions, compact design and a well-balanced low weight.
Industrial cable H07, length 4m.
Need to know more about our Fein CG 15-125 BLP Brushless Angle Grinder?