Flex IW 1/2″ 750 18.0 EC Cordless Impact Wrench
Flex Cordless Impact Wrench with a maximum torque of 750Nm
The Flex IW 1/2″ 750 18.0-EC cordless Impact Wrench. With up to 750 Nm torque.
Comes as either a machine body only, machine with case or a machine with 2x5Ah batteries, charger and case.
Please check availability and delivery time prior to ordering.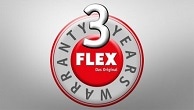 Enquiry: Flex IW 1/2″ 750 18.0 EC Cordless Impact Wrench
Technical Data
Battery Voltage
18.0v
Battery Capacity
2.5 / 5.0 / 8.0 Ah
Torque Settings
3 Steps
Max Torque Setting 1
150 Nm
Max Torque Setting 2
200 Nm
Max Torque Setting 3
750 Nm
No Load Speed 1st Gear
0 – 500 rpm
No Load Speed 2nd Gear
0 – 1000 rpm
No Load Speed 3rd Gear
0 – 2100 rpm
No Load Blows Setting 1
0 – 1000 bpm
No Load Blows Setting 2
0 – 2000 bpm
No Load Blows Setting 3
0 – 2450 bpm
Tool Holder Impact Wrench
1/2″ Square Drive
Dimensions
159 x 74 x 227 mm
Weight Without Battery Pack
1.9kg
Features
Brushless motor with greater efficiency and a longer service life.
Electronic management system (EMS) protects the machine, extends the service life, and increases efficiency.
Tool holder square drive for 1/2" impact sockets.
Electronic quick-acting brake.
Damping element separates hand grip from motor, bringing significant reduction in vibration transmission.
Powerful impact mechanism for maximum performance enables for example stuck or rusted screw connections to be loosened even in extreme applications.
Speed command: Possibility of setting three different speed ranges for different applications and controlled tightening or loosening.
Accelerator trigger with lock-off switch.
Ergonomically designed, non-slip, soft grip handle.
Integrated LED lamp with persistence function.
LED battery capacity display.
FLEX battery system: suitable for all FLEX 18,0 V battery packs.
Right/left rotation with safety catch.
Auto-Stop mode: When tightening, the machine stops as soon as the blow starts. When loosening, the machine stops as soon as the blow stops. Suitable to prevent over-tightening of the screw or nut.
Compact design with die-cast aluminium machine head. Extremely durable and impact-resistant.
Need to know more about our Flex IW 1/2″ 750 18.0 EC Cordless Impact Wrench?