ICS Powergrit: What is it and Why do you Need it?
When you are working on any kind of underground cutting project, you need to make sure that you have the best tools for the job in order to carry out the work safely and efficiently. Some tools can mean more excavation work, others can mean a slower cutting process. Both of these situations invariably lead to less-than-optimum use of time. Luckily, there are options out there that solve both of these problems.
ICS is one such company tackling this issue by creating a range of diamond chainsaw chains that can work on concrete, utility pipe, stone, and masonry work. The ICS PowerGrit range is versatile enough to perform many cutting operations you will encounter quickly and safely.
ICS has an ever-expanding line of industrial cutting tools that can meet all your project needs. They have tools that include petrol, hydraulic, pneumatic powerheads, and guide bars.
PowerGrit is a pipe cutting chain that allows you to cut pipes made out of a wide variety of materials like Iron, HDPE, PVC, and more due to the grinding technology and the patented diamond chainsaw material. All of these chains can be used with the best-in-class guide bars and powerheads also created by ICS, and all available on our web shop.
Why do You Need ICS PowerGrit?
ICS PowerGrit utility chains offer many benefits when compared to their counterparts. The diamond chainsaw chain is especially useful for tougher jobs. The added benefits of versatility and durability help to support the safe and efficient completion of all your jobs.
A major advantage of PowerGrit is safety. ICS PowerGrit saws address operator safety with revolutionary grinding technology, virtually eliminating rotational kickback and improving operator positioning.
Traditionally water utility companies use petrol cut off saws for cutting pipes in the excavation, pinched or snagged blades can cause rotational kickback which has resulted in serious injury and even death.
These tools offer you greater access to the cut without extensive excavation. With this tool, you can cut up to  63cm (25") of pipe from one side. Having better access and reduced excavation helps you cut down on time needed to perform the task. Finishing the job quickly not only saves you time, but it also saves you money.
Reducing a step in the process also cuts down on the likelihood of encountering a problem that will cost you further time and money to fix. Once the job is completed, you will also not have to deal with filling in large excavation sites since excavation was minor in the first place.
You can use pipe cutting chainsaw tools on ductile iron, plastic pipe or anything in between. Because this tool is so versatile, it helps you complete jobs faster and easier by giving you easier access to cut pipes from one position. You have less to worry about hauling to job sites since one cutting tool will handle all your cutting needs.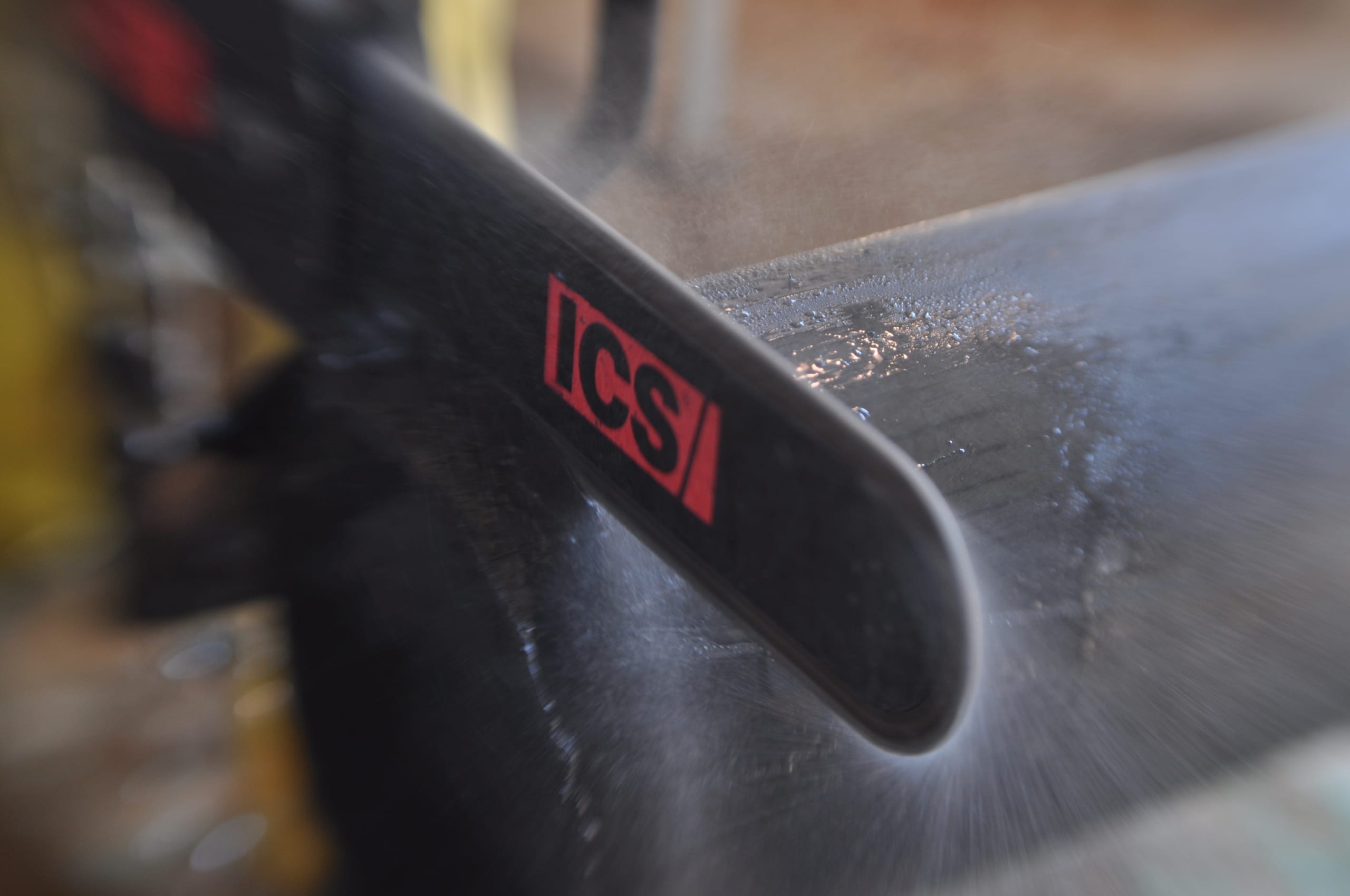 ICS 890F4 diamond chainsaw is the largest saw in the range with the ability to cut upto 63cm deep in concrete, including reinforced concrete, natural stone and thick masonry walls.
The ICS 890F4 diamond chainsaw is the ideal choice for professional concrete cutters, specialist builders and the utility industry. The 890 saw has a quiet, smooth and service free hydraulic motor with a rugged body plus an easy to change drive sprocket, making it engineered to stand up to the toughest of jobs.
Available with different length guidebar and chains to give 25cm, 38cm, 50cm and even upto 63cm depth of cut using the superior Force4 diamond chains or the Crosslink diamond chains with one suitable for every application. Whether it is for modifying lift shafts, altering buildings or cutting concrete sewer culverts the ICS890 and the ICS diamond chains are the best solution for the construction and utility industry.
Give us a call on +44 (0)121 506 6095 or drop us an email to enquiries@echopkins-bham.co.uk
Alternatively you can request a callback below, fill out the form and we'll be in touch as soon as possible.