How To Maintain & Service Underwater Tools
Knowing how to maintain underwater tools is an important part of owning underwater tools. Proper care and maintenance can drastically improve the function of the tool and extend its lifespan. Taking a little bit of time to learn underwater tool care will save money and help the tool work more efficiently.
Underwater tool maintenance for Stanley hydraulic underwater tools is not complicated but can help protect the tool against natural wear and tear that can damage it over time. It can also help users avoid unnecessary damage.
When coupling or uncoupling your tools, make sure that the circuit control valve is in the "off" position. If this is not correct, the quick couplers can be damaged, and the hydraulic system may overheat. Ensure that all couplers are wiped clean before connecting them.
When the tool is not in use, keep it in a clean, dry space to make sure that it does not get damaged when in storage. Take care to keep tool markings like warning stickers and tags attached to the tool and legible in case of emergency and to remind all users of proper safety protocols.
Do not reverse the circuit flow because this can cause damage to the internal seals. Hydraulic oil should always flow out of male quick connect couplers and into the female equivalent. Always ensure the supply hose connects to the "in" port of the tool.
Inspect hoses, couplings, and other parts with each use and replace them with parts recommended by Stanley Hydraulic Tools when they start to show wear. Any supply hoses that you replace should have a minimum working pressure rating of 2500psi/172 bar. Check the manual for the correct flow rate and pressure rating for each tool and do not exceed that number. This can cause the failure of the internal seals.
Make sure that you are not using the tool for tasks for which it is not designed. This can cause the tool to break and void any warranty on the tool.
Any service needed on the tool beyond the simple replacement of hoses and couplings should only be performed by an experienced maintenance professional. Make sure that the relief valves recommended for the tool are installed on the pressure side of the tool.
When experiencing issues with an underwater tool, there should be a troubleshooting section in the user manual that can help determine the problem based on the issues occurring. This can give an idea as to where the problem lies and if an expert needs to be consulted.
If the problem is easily fixed, make sure to follow all safety protocols and instructions found in the user manual. If unable to perform the repairs, be sure to take it to a licensed professional to perform the work.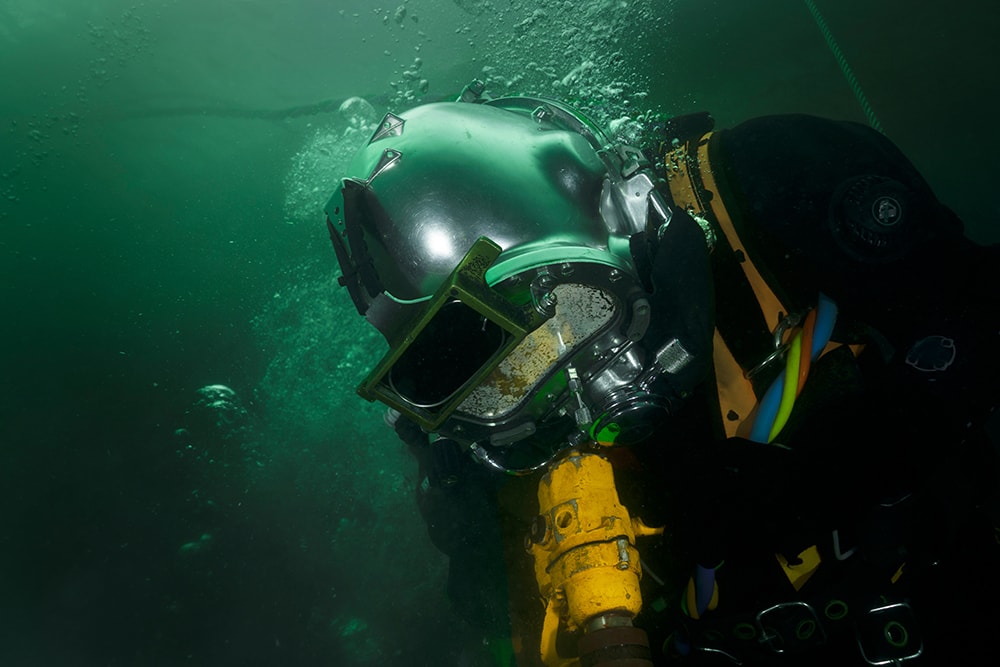 The 890 underwater diamond chainsaw is used with great success to cut coral, concrete and natural stone in a range of jobs from harbour and marine works through to specialist offshore applications.
890 underwater diamond chainsaw is based on the land tool but is used in the water utility industry and by commercial dive companies who use it with great success to cut stone, masonry and concrete well as cutting coral. The 890 saw has a quiet, smooth and service free hydraulic motor with a rugged body plus an easy to change drive sprocket, making it engineered to stand up to the toughest of jobs.
Available with different length guidebar and chains to give 25cm, 38cm, 50cm and even upto 63cm depth of cut using the superior Force4 diamond chains or the Crosslink diamond chains with one suitable for every application. Whether it is for modifying structures, altering buildings or cutting concrete sewer culverts the 890 diamond chainsaw and the ICS diamond chains are the best solution for any underwater concrete or stone cutting.
Give us a call on +44 (0)121 506 6095 or drop us an email to enquiries@echopkins-bham.co.uk
Alternatively you can request a callback below, fill out the form and we'll be in touch as soon as possible.