How to Cut Concrete with a Diamond Chainsaw
Diamond chainsaws are capable of making deep cuts with square corners and no overcut in strong materials such as reinforced concrete. ICS have always been consistently best in class when it comes to tackling such heavy-duty work.
Diamond chainsaws come in hydraulic, pneumatic, electric, and petrol variants, and can be fitted with guide bars and chain lengths of up to 63cm.
If you want to learn how to cut concrete with a diamond chainsaw, here is your step by step guide.
Safety first
As with all construction work, safety is paramount. Ensure that you are dressed head to toe in proper safety clothing, including a hard hat, eye protection, hearing protection, safety boots, and gloves. No special training is required.
Check the area to be cut and make sure there are no electrical wires, plumbing, air ducts, or other obstructions in your way.
The diamond chain must be tensioned correctly, not too tight as it shouldn't be hard to pull it around the guide bar using your hands but not too slack either. Check that the safety functions are working and that all controls are in order.
Diamond chains require a pressurised water supply to maintain and protect the machine, suppress dust and to flush slurry from the cut. The minimum flow should be 4 litres per minute and the minimum pressure is 1.5 bar. A descent domestic water supply is typically sufficient.
Planning is key
Planning your cut is an essential step in the process. Use a marker to plot a visual cutting guide. Remember to always cut the bottom of the area first, followed by the top, and finally cut the sides. The easiest cut should be done last.
The cut line should be scored around 40mm deep. This is a good marker for a straight cut.
Plunge cutting is the recommended technique, as it is the fastest and easiest way to cut. The priority should be for a straight cut so using a comfortable technique is strongly recommended.
Executing the cut
Start the cut by slowly plunging the nose of the guide bar straight into the wall. The trigger should be held on full throttle for the entirety of the cut. Line up the nose of the bar with the visual guide you created and slowly plunge.
You must apply an adequate feed force to reduce free-running RPMs by 20% to 30%. This is crucial as too much force will cause the saw to stall and the chain won't have enough speed to cut, while too little force will cause the diamonds to skid and glaze over the concrete. Find the right level of force (you'll feel it) and maintain that RPM consistently.
If you're cutting rebar, you must rock the saw to make sure you're cutting concrete and steel at the same time.
If your diamond chainsaw has a WallWalker, use it to your advantage. It will make the process a lot easier on you physically. The most important thing to note is that you keep the WallWalker engaged continuously. If you don't, it may skid, leading to problems with your cut.
Final considerations
The cutting speed can be increased by opening up the diamonds on the chain. If you're struggling to make headway with a cut, this might be an effective solution.
Certain cuts, such as rebar cuts, will cause more wear and tear to your diamond chain and guide bar. If you notice that your saw is no longer cutting straight, flip the guide bar over and use the other side.
A guide bar should last the lifetime of two to three diamond chains. However, extensive use and frequent rebar cuts can reduce its lifespan significantly.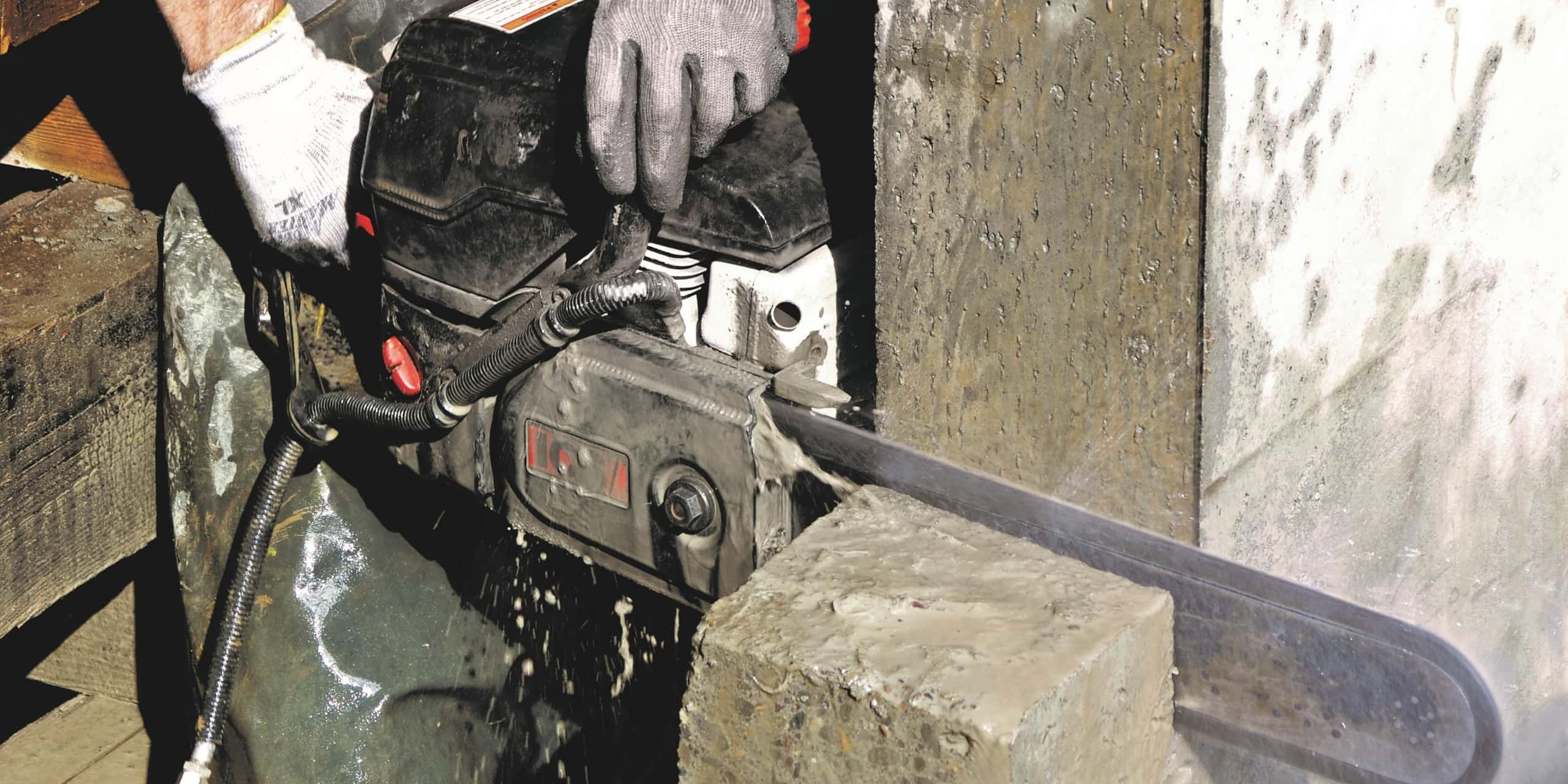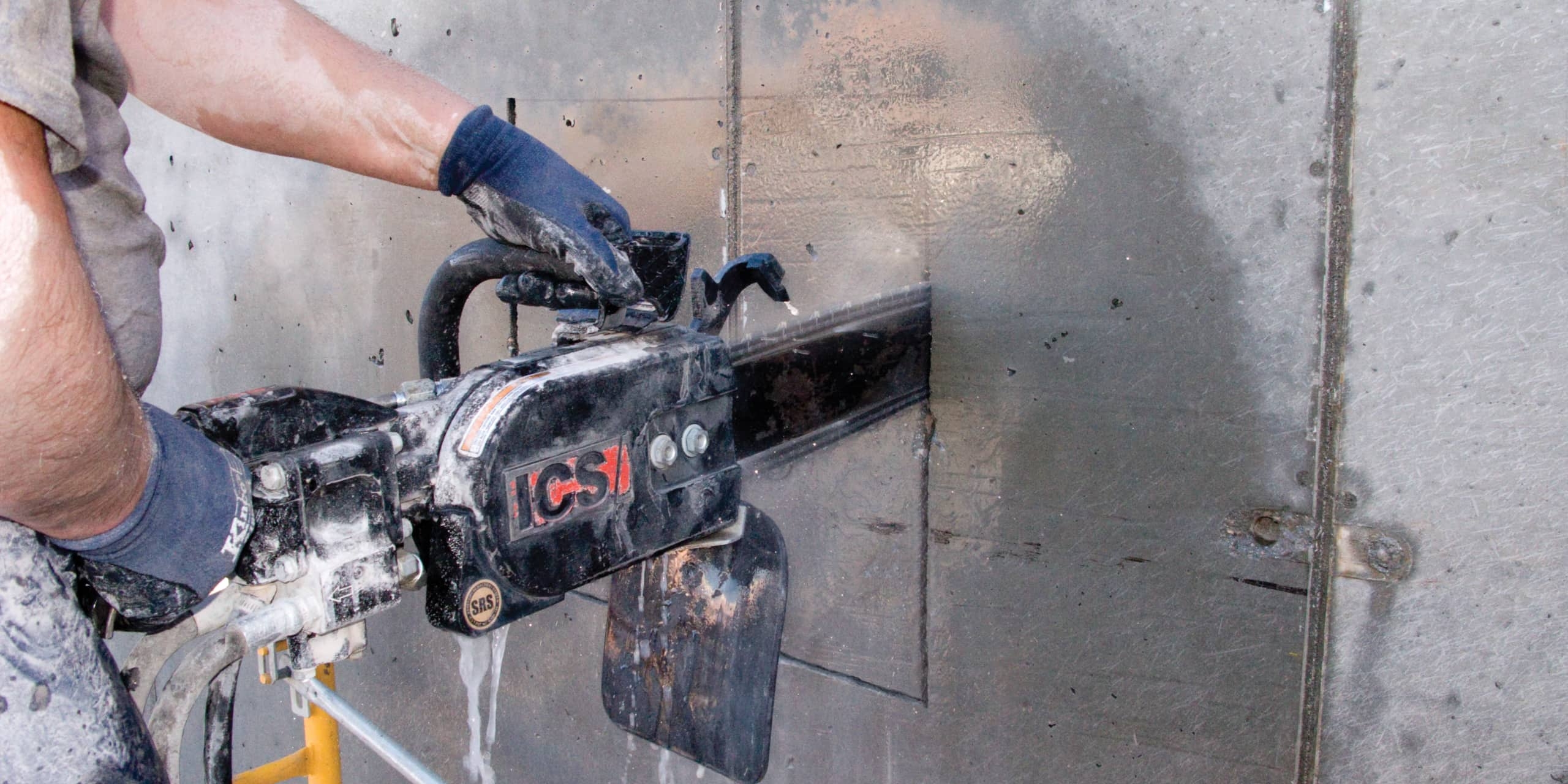 ICS 890F4 Hydraulic Diamond Chainsaw
ICS 890F4 diamond chainsaw is the largest saw in the range with the ability to cut upto 63cm deep in concrete, including reinforced concrete, natural stone and thick masonry walls.
The ICS 890F4 diamond chainsaw is the ideal choice for professional concrete cutters, specialist builders and the utility industry. The 890 saw has a quiet, smooth and service free hydraulic motor with a rugged body plus an easy to change drive sprocket, making it engineered to stand up to the toughest of jobs.
Available with different length guidebar and chains to give 25cm, 38cm, 50cm and even upto 63cm depth of cut using the superior Force4 diamond chains or the Crosslink diamond chains with one suitable for every application. Whether it is for modifying lift shafts, altering buildings or cutting concrete sewer culverts the ICS890 and the ICS diamond chains are the best solution for the construction and utility industry.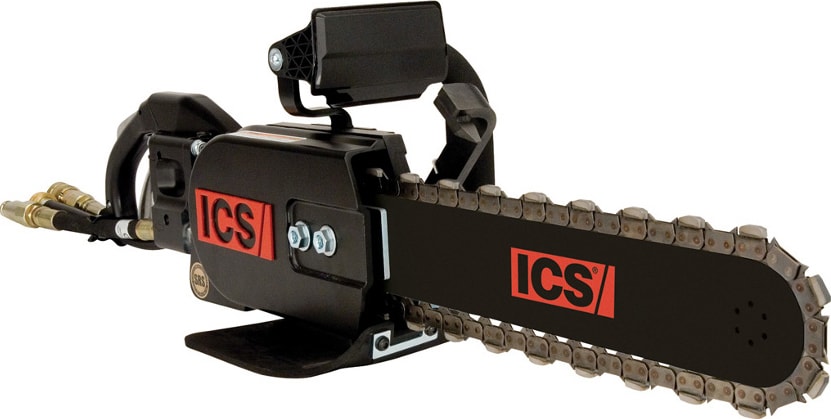 Have a Question about Diamond Chainsaws? Contact us Using the Form Below.
Give us a call on +44 (0)121 506 6095 or drop us an email to enquiries@echopkins-bham.co.uk
Alternatively you can request a callback below, fill out the form and we'll be in touch as soon as possible.