Flex Cordless Battery Packs 18.0v & 10.8v
Flex Battery Packs 18.0v & 10.8V
The Flex 18v & 10.8v Cordless Battery Packs.
Available with the following capacities.
18.0v – 2.5Ah
18.0v – 5.0Ah
18.0v – 8.0Ah
10.8v- 2.5Ah
10.8v – 4.0Ah
Battery pack Li ion with integrated charge and discharge protection, battery charge indicator, dust and splash protection. Electronic management system (EMS) protects the battery pack, extends the service life, and increases efficiency.
The NEW 8.0Ah battery pack uses higher density batteries allowing up to 75% more power and up to 60% longer runtime making this battery ideal for machines that draw higher currents and have longer operating times on the construction site. The patented Therma-Tech technology absorbs heat and protects the battery cells, which greatly improves the life and efficiency of the battery.
Please check availability and delivery time prior to ordering.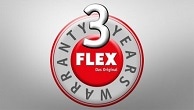 Enquiry: Flex Cordless Battery Packs 18.0v & 10.8v
Need to know more about our Flex Cordless Battery Packs 18.0v & 10.8v?