Housing Estate Water Pipe Update
A major UK contractor in the South of England had a large scheme where they had to replace an ageing 6" ductile iron pipe by sliplining. The scheme was on a large 1970's housing estate and involved several hundred cut outs.
What made this task particularly problematic was the sheer number of other services crammed into the excavation, as can be seen in the photographs.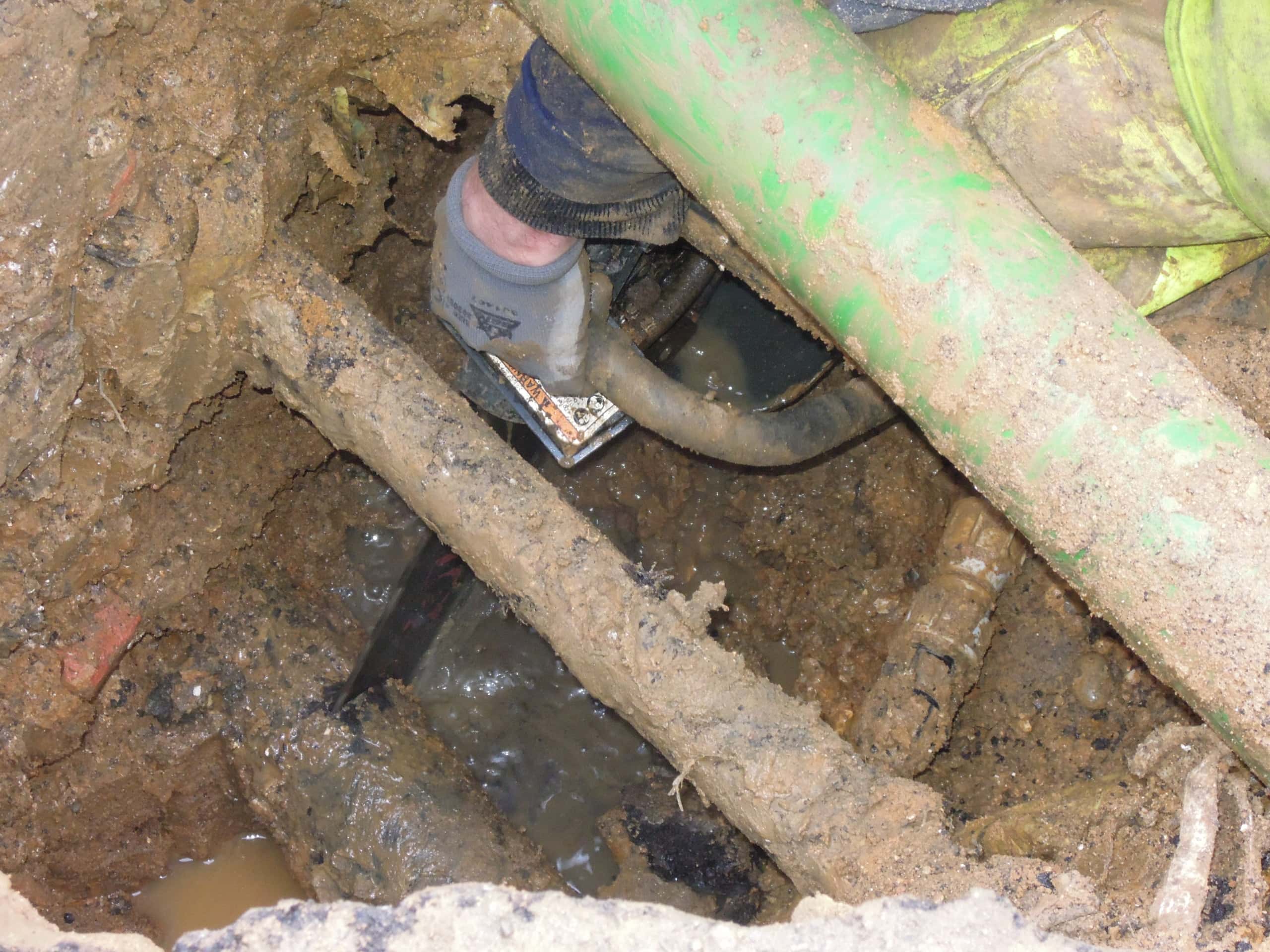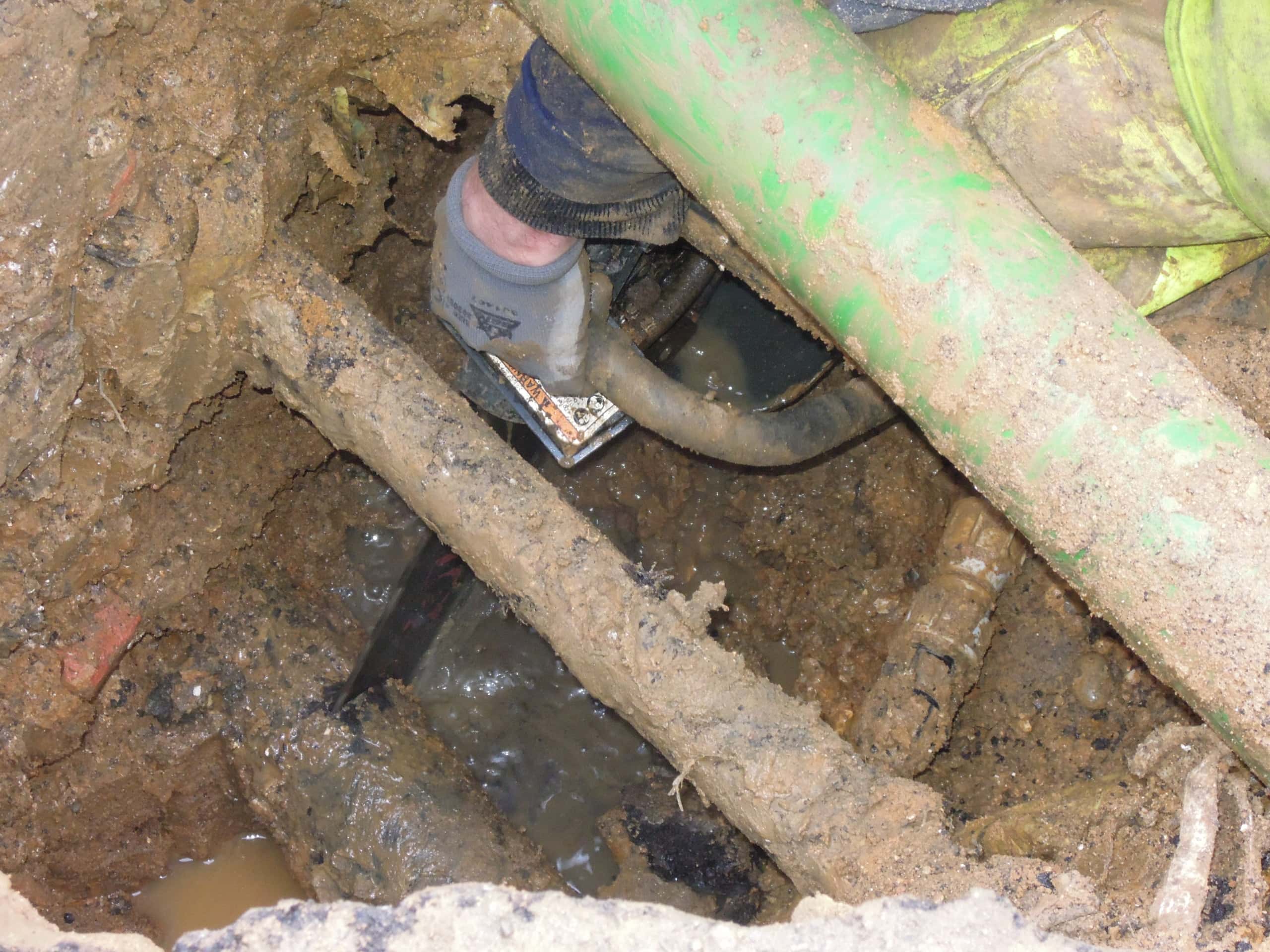 It was decided to use the hydraulic ICS 880F4 PowerGrit Saw for this task. Cuts were made both freehand and by utilizing the adjustable pipe clamp where space allowed. The images show how small an excavation PowerGrit can be used in and just how close to other services it is possible to safely cut the pipe.
No other method of pipe cutting could have been used without completely exposing the whole length of the water main, which would have significantly increased the cost and duration of the project.
The saw uses a diamond chain that has a grinding action and has no kick back, also due to the length of the bar and chain, cuts can be made from one side thus making PowerGrit an efficient and safe method of cutting.
By using ICS PowerGrit on this scheme a great deal of time and money was saved. Throughout the task PowerGrit proved to be safe and reliable.
To find out more about ICS Diamond Chainsaws please call us on 0121 506 6095 or CLICK HERE to go to the ICS Diamond Chainsaw Section.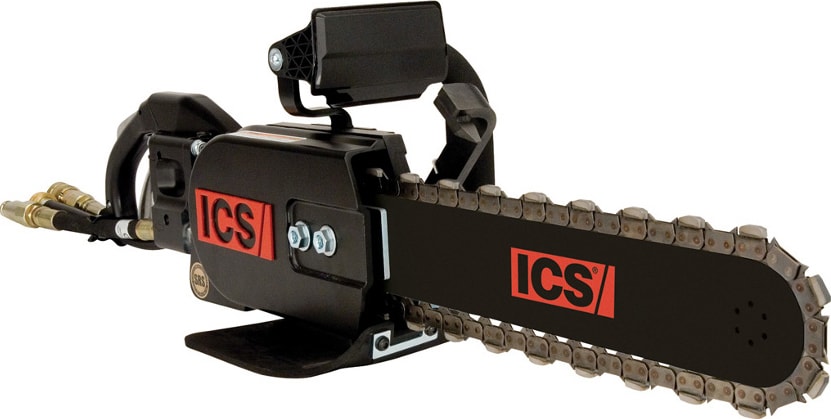 ICS 890F4 Hydraulic Diamond Chainsaw
ICS 890F4 diamond chainsaw is the largest saw in the range with the ability to cut upto 63cm deep in concrete, including reinforced concrete, natural stone and thick masonry walls.
The ICS 890F4 diamond chainsaw is the ideal choice for professional concrete cutters, specialist builders and the utility industry. The 890 saw has a quiet, smooth and service free hydraulic motor with a rugged body plus an easy to change drive sprocket, making it engineered to stand up to the toughest of jobs.
Available with different length guidebar and chains to give 25cm, 38cm, 50cm and even upto 63cm depth of cut using the superior Force4 diamond chains or the Crosslink diamond chains with one suitable for every application. Whether it is for modifying lift shafts, altering buildings or cutting concrete sewer culverts the ICS890 and the ICS diamond chains are the best solution for the construction and utility industry.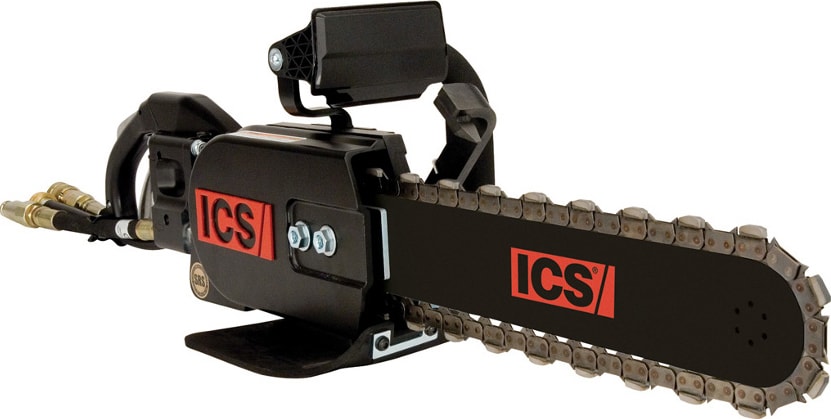 Give us a call on +44 (0)121 506 6095 or drop us an email to enquiries@echopkins-bham.co.uk
Alternatively you can request a callback below, fill out the form and we'll be in touch as soon as possible.